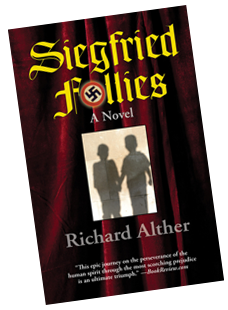 Buy from your local independent bookstore
-OR- buy online at:

Praise
"Some authors assume we will read anything with a swastika on the cover, and they seem to be right. But other authors inject real human drama into what can be an overwhelming narrative. Richard Alther has done this in Siegfried Follies. He's framed the whole book in the narrative of Hitler's Germany, but he's crafted beautifully detailed characters within."
"This story is a powerful saga with engaging characters. It's the result of the boys' traumatic childhood living under horrific circumstances, and the emotional and psychological damage they carry into adulthood. It is a story of brotherly love and personal demons that shape their lives, the choices they make, and their relationships. Readers will be riveted by the attention to detail regarding life in Germany during World War II. I highly recommend Siegfried Follies to those who enjoy well-written, compelling, and emotionally engaging sagas."
"Alther has the potential for becoming a highly acclaimed writer. He writes with realism, and is proficient in articulating intellectual subjects of culture, philosophy, the arts, music, and edcuation.
"Siegfried Follies is a novel which addresses a powerful and haunting period in world history, a story that will be of special interest to avid readers of World War II literature and the Holocaust. Alther writes with sensitivity on the subjects of seeking ancestral roots, family, community, and the complex issue of self-identity. This is memorable writing that will disturb the reader long after the final chapter."
"Little does Franz, a German orphan, know his kind and perhaps rash and dangerous act of saving a Jewish boy from certain death will lead to an unlikely thirty-year-long friendship. If you enjoy reading about the Holocaust, survival in spite of all odds, and sweeping, epic stories of love, jealousy, betrayal, and redemption, you'll definitely want to add Siegfried Follies to your reading list today!"
"Two children grow up together, learning the world as it is, and we watch them mature as they make their way from home to home, country to country, until separating and finding one another again in America. They discuss their lives and all its meanings, done in such a way that feels spiritual but doesn't beat you over the head with the author's message. The drama between Franz and J is real and unforced. As children they are unable to understand the chasm that divides them as a Nazi and a Jew, but as they grow up after the war, their differences manifest themselves. They move apart physically as well as emotionally, each responsible for his own inner journey.
"Siegfried Follies is laden with the symbols of this journey. The soldier dolls that J makes to sell for food feels eerily reflective of how Nazi Germany made dolls of its people. Labeling them, setting them to work, and trashing them at their whim. Similarly, towards the end, Franz will identify himself also as Jewish, having grown up under J's influence, and realizing they are one and the same. The depth of research and attention to detail give Alther's epic journey of time and family a relevance and ultimate triumph.
"Siegfried Follies is a gripping and memorable read on the perseverance of the human spirit even through the most scorching prejudice."
"For Franz and J, the two exactingly drawn men at the center of Richard Alther's heartbreaking saga of Nazi brutality and the weight of the past, nothing is ever lost except innocence and--almost but not quite--hope. What a pleasure to read an ambitious novel that resonates so powerfully with historical truths and with the struggles of people for whom history is the central fact of their broken lives."
"Richard Alther moves from horror to felicity with a wise and witty hand. With an historical sweep grounded in twentieth-century Germany, Israel, and the United States, Siegfried Follies is by turns keenly observed, screamingly funny, and quietly reflective."
"How could Germans create a Holocaust? What is in the Jewish spirit that has provoked persecution through the centuries? Unflinchingly, in exploring the psyches of two men and the culture in which each is embedded, this rich novel probes the world as a whole.
"Richard Alther delves into German and Jewish history, the Talmud, the Old Testament, Wagnerian opera, and writings ranging from Mein Kampf to stories from the Baal Shem Tov, resulting in a riveting story of two orphans, polar opposites, who forge an intimate bond."