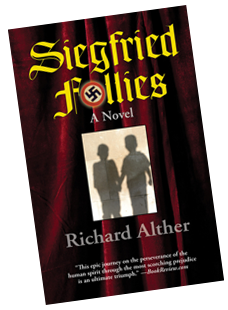 Buy from your local independent bookstore
-OR- buy online at:


Blond, blue-eyed Franz, a Hitler Youth, in fleeing his Nazi birthing home as bombs destroy Munich, saves a filthy, speechless Jewish boy thrown from a train. Witnessing atrocities, surviving the loss of family, they create a home and brotherhood that both defies and affirms their past.
"How could Germans create a Holocaust? What in the Jewish spirit has provoked persecution through the centuries? Unflinchingly, in exploring the psyches of two men and the culture in which each is embedded, this rich, compelling novel probes the world as a whole.

"Richard Alther delves into German and Jewish history, the Talmud, the Old Testament, Wagnerian opera, and writings ranging from Mein Kampf to stories of the Baal Shem Tov, resulting in a riveting story of two orphans, polar opposites, who forge an intimate bond."
"Moves from horror to felicity with a wise and witty hand. An historical sweep grounded in twentieth century Germany, Israel, and the U.S., Siegfried Follies is by turns keenly observed, screamingly funny, and quietly reflective."
"A powerful saga of two boys' traumatic childhoods living under horrific circumstances, and the emotional and psychological damage they carry into adulthood. It's a sweeping story of love, jealousy, betrayal, and redemption."
Read more about what people are saying...